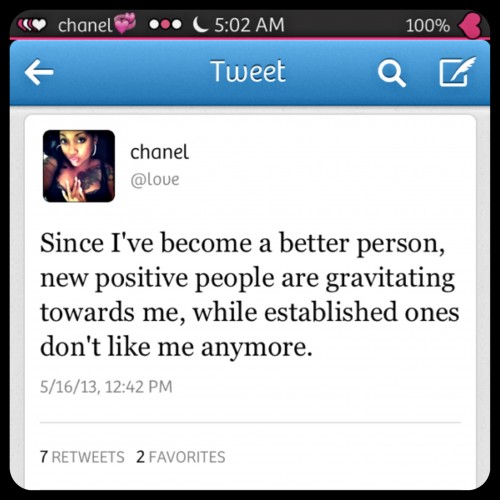 It really seems like the more I progress, the more I work on myself, and the more I rid myself of personality flaws, the people that have been I my life a long time don't LIKE me anymore. I'm still the same ratchet goofy Chanel, just easier to deal with, not as bitter, and a lot more positive. I don't even have road rage anymore. And as I come across new people and make new friends, they adore me. They provide me sunlight on my dark days without me even asking. Even treat me better than the people in my own home. I don't get it? Can anyone shine some light on this?
I posted this on Instagram, and the responses I received had so much clarity and upliftment, I had to blog about it. It really warms my heart when strangers, or even friends, that don't quite know your situation or what you're going through can say just the right things to make you feel better.
---
The Responses:
@dieslowplz
People just can't accept the new happier you, misery likes company.
@beekillinem
EXACTLY how I'm feeling this morning. ALL NEW FRIENDS! The new ones have been a better friend than the ones I've known for years. Better to me than my own "mother" I'd trade her for them any day. My mom been bitter and not happy for me in any relationship I've been in since my dad divorced her ass. And now I see why he left. Every single time I'm dating a guy, just on mothers day she got into an argument with the guy I'm dating and told him that "I never liked him" etc. really?? 'I' told him that already and we laugh about the shit.
@prissyvibes
Amen. People tend to misinterpret growth and take offense to it. We always keep our basic traits, authenticity will never die. They take offense because they themselves have not evolved into the better person they have potential becoming. And because of this new people, new places, and social statures are always open arms for our "new being".
@jacquebeee
It's unfortunate that 'friends' don't want you to change for the better. They want you to be unhappy, stressed & dealing with drama 'cause it's entertainment for them. Others pretend to want you doing better/being a better person as long as it isn't better than them. It's sad. Some people aren't ready to grow when you are & that's how friends grow apart.
@anfndukes
Well, everyone can visibly see that you're much happier and that's all that matters. I never thought anything was wrong with you before, and so what if people did? You're funny and goofy and that's my favorite thing about you! You talk shit about people, but everybody does, you've always been super sweet to me, and now you're only even more sweeter <3
@tallagash
So many people in our lives feel so powerless with controlling their happiness or quality of relationships, any slight change in anyone they attach themselves to makes them panic, strikes them with fear that they're leaving their grips. Afraid their old tricks, old guilt trips, old remarks and comments are losing their power…they feel like they're losing themselves as you are finding yours; doing what they never could get uncomfortable and do. When everyone thinks they're that greatest person in all of their family and friends life, how dare anyone question such delusion by wanting to break away and be there own true self, distancing or even leaving many people behind. The type of people that have the courage to search through themselves and push themselves to grow, are only seeking to do one thing and that is to give the greatest amount of love they can to the universe, to themselves and everything around them. People like that are the ones that gifts of graciousness spoken of in the bible, like love, kindness and goodness, rightfully belong to…after years of giving such to people who never appreciated it or accepted or deserved it, giving it to someone like this, like yourself, is like giving the deaf the gift of sound for the first time in their life. Satisfying, enriching, encouraging.
@naz_
You know, I feel it's not in the time of need, but rather in the times when everything is going great for you that you see who your real friends are. Because it's easy to be there for somebody that is hurt or lend them a shoulder to cry on. What is hard instead is to genuinely be happy for somebody else's success and shine, especially if those people are not shining on their own to begin with. When you are successful and happy you attract people that are in the same predicament as you and for them it's easy to be honestly happy for you and your achievements and of course they wanna push you even more to be fulfilled. Because they are satisfied with their lives and your "light" doesn't dim theirs.

---
Before I was a Mom…
I slept as late as I wanted and never worried about how late I got into bed. I brushed my hair and my teeth everyday.
Before I was a Mom…
I cleaned my house each day. I never tripped over toys or forgot words to a lullaby. I didn't worry whether or not my plants were poisonous. I never thought about immunizations.
Before I was a Mom…
I had never been puked on – Pooped on – Spit on – Chewed on, or Peed on. I had complete control of my mind and My thoughts. I slept all night.
Before I was a Mom…
I never held down a screaming child so that doctors could do tests…or give shots. I never looked into teary eyes and cried. I never got gloriously happy over a simple grin. I never sat up late hours at night watching a baby sleep.
Before I was a Mom…
I never held a sleeping baby just because I didn't want to put it down. I never felt my heart break into a million pieces when I couldn't stop the hurt. I never knew that something so small could affect my life
so much. I never knew that I could love someone so much. I never knew I would love being a Mom.
Before I was a Mom…
I didn't know the feeling of having my heart outside my body. I didn't know how special it could feel to feed a hungry baby. I didn't know that bond between a mother and her child. I didn't know that something so small could make me feel so important.
Before I was a Mom…
I had never gotten up in the middle of the night every 10 minutes to make sure all was okay. I had never known The warmth, The joy, The love, The heartache, The wonderment or the satisfaction of being a Mom. I didn't know I was capable of feeling so much before I was a Mom.
Author: Unknown

Disclaimer: Click to enlargen because some of these are gifs!