weave.
So many women have misconceptions about the type of weave to purchase and how to maintain it. A responsible woman can keep a good sew-in weave for at least 3 months. Yes, 3 months. I usually keep my sew-in for 3-4 months, depending on the season (I can go 4 months in the winter).  I get a lot of questions about the type of weave I get, how to take care of it, and etc. This blog is to answer all of those inquiries.
Indian Hair: If you're looking for the best quality hair, you will need to make an investment. Virgin Indian Hair is the best grade of hair to purchase. The term "virgin" means unprocessed, chemical free. The hair is at the most natural state. It came straight off of an Indian donor's scalp the way it is. Virgin Indian Hair can cost anywhere between $300-$750 (that's for 2-3 bundles). The term "bundle" mean the bulk of hair, which is usually 4-6 ounces. 1 bundle is the equivalent to 1 pack of beauty supply store hair. 1 bundle (anywhere from 14 inches – 26 inches) cost between $125 – $250. Indian hair can also be dyed or bleached. Indian hair can be reused for at least 1 year.
Curly or "Spanish Wave": This hair is naturally curly. It's the "wet & go" look. The hair is very versatile and can be worn naturally curly or straightened with a flat iron. This grade of hair is the hardest to get bone straight.
Wavy or "Body Wave". This hair is very wavy and light. It can be worn wavy, straightened with a flat iron or curled with a curling iron. This is best type of hair to get if you're looking for something to give you many looks, without too much hassle.
Straight: This hair is straight with a subtle natural wave to it. The hair is very flat and suggested to be cut in layers for body. The only way you will get the supreme wavy look with this hair is if you braid it into 2 braids for 8 hours.
Malaysian Hair, Peruvian Hair, Brazilian Hair, Mongolian Hair, Brooklyn Hair, Miami Hair: Look, whatever. It's really not the type that they call it. It's still Indian hair, except they process it (whether by using a relaxer, or a curly perm) to get it to look like a different ethnicity. Don't jump on the bandwagon. Just go ahead and get Indian hair.
Packaged Hair: If you're not ready to purchase Indian hair, you can purchase packaged hair from your local beauty supply store. Packaged hair can cost anywhere between $75 – $150 per pack. You cannot process this hair with dyes or bleaching and you can only use it once. The way the hair came, is the way you need to wear it. Unless it's straight and you can curl it sometimes with a hot curler. The best packaged hair to get is Saga Gold or Saga Platinum.
Shampoo: John Frieda Frizz Ease Smooth Start Shampoo – Be gentle with the hair when you wash it. Do not wringe, pull or squeeze tightly. This prevents the hair from breaking away from the weft (that's what cause the shedding). Wash and rinse 2 times.
Conditioner: John Frieda Frizz Ease Smooth Start Repairing Conditioner – Leave it in for 5-10 minutes then rinse out thoroughly.
Scalp Treatment: Squeeze Infusium 23 Leave-In conditioner into your roots so it can moisturize your scalp/real hair, and to prevent flakes/itching. Try not to let all of it get into your actual weave. Nothing bad will happen, but the less product you leave in the weave, the better the outcome. After every wash you may also use Nutri-Ox Treatment. The description may not apply to you, however it safeguards against toxin buildup on the scalp to promote thicker, healthier hair growth. Enhanced microcirculation energizes cellular acivity and nutrient uptake by the scalp skin. It also helps greatly with bad itching.
Coloring/Bleaching: Bigen is the safest product to dye Virgin Indian Hair black. 3 bottles, leave the dye in for about 2-3 hours though. My weave is still silky, didn't lose it's texture, and it's not tangled. It's best to use because it has no ammonia or hydrogen peroxide. Bleaching the weave does the same exact thing as it does when you bleach your own hair: it strips the hair of it's color and thickness. I would highly advise against bleaching, but if you must, purchase the lightest color weave possible so you wouldn't have to bleach it as much.
Drying: The best way to dry your hair is by roller setting it and sitting underneath the dryer for at least 90 minutes. If you don't feel like doing that, you can finger dry your hair with a blow dryer. Note: Do not use the comb attachment with the blow dryer because that adds stress to the hair by pulling it too hard, which can also loosen the weft, which can cause shedding and slipping tracks. The most laziest & healthiest way (which is what I do most of the time) is towel dry your hair, let it air dry for 8 hours, then put it into 2  braids while it's damp. This takes about a day for it to dry.
Day-to-Day care: The only product I would suggest to use is BioSilk Therapy. You drop a dime size into your palm and rub it through your hair twice a week. It gives that natural shine, without weighing down the hair with oil/grease. It also promotes a nice silky look if you are wearing your hair straight.
Curling or Flat Iron: The best curling iron to use to achieve the waterfall curls (ie: Kim Kardashian's look here) is RED hot curler, 1inch. The best flat iron to achieve the straighten look is any flat iron that has a titanium plate (it will be a silver plate), that's about 1 inch wide. The heat should be between 350° – 425°. Anything higher and it will burn the hair, or eventually cause irreparable heat damage. Update July 2012: The flat iron I am currently using is the FHI Heat Technique G2. Takes only 30minutes to flat iron 3 bundles of 20-26 inches of wavy hair (not previously blow dried straight).
Wrap: The best material to tie your hair down with is a silk scarf. The natural fiber of silk allows air flow, unlike synthetic fabric. Wrapping your hair in a non absorbent fabric like silk will eliminate dryness, thus reducing breakage.

Many ways you can wear Indian weave.
Wavy, straight, tight curls, loose curls.
Frequently Asked Questions:
Where do I get affordable Virgin Indian hair from? – This is the hardest question to answer. You have to shop around, Google reviews from the company you're thinking about getting the hair from, and compare prices. Never buy the hair from someone that's going to meet up with you at the gas station and then they take it out from their trunk. Because if something goes wrong, you will never be able to exchange the hair. The company that has rave reviews (and where I purchase my hair from) is HairbornExpress.com. When you call ask for Dondi or Shannon and tell them that Chanel from kisschanel.com referred you: (404) 812-9665 (shipping is available).
How can I stop shedding? – There's no way to stop shedding. Sometimes you get a bad batch of hair, or you used a product that was too strong for the hair. However, you can prevent shedding. Before purchasing, take a look at the hair you're interested in. Play with it, swing it around, run your fingers through, brush it a few times, and investigate the weft. Some companies will glue the weft to ensure that strands off the hair will not slip out of the weft. Ask if they do this. Do not be afraid to ask questions and to ask them to take the hair out of the rubberband because remember, you're technically spending your rent money on this! Most places, if the hair starts to shed within one month of sewing it in, they will do a full exchange. You have to take the hair out and bring it in to them though. Be sure to call and check on their exchange policy before purchasing.
How do you know all of this? – This advice comes from years of experience, experimenting with many different products/weaves, and a family of Jamaican hair stylists. Any questions, feel free to comment below and I will respond within 48 hours.
What hair do you use? – I get Virgin Indian, natural wavy, 3 bundles: 20inches, 24inches and 26inches.
What about my real hair? Do I still have to perm it? – No. I stopped perming my hair in November 2011. The only area I do perm is my middle part and my hairline. You do not have to do this, but I do it because I sweat my real hair out very easily. In July 2011 I cut my hair up to the bottom of my earlobe and now (July 2012) it is past my shoulders, all one length. I am not one of those people that is against perming, because I've been getting perms since I was 8 years old, but this is my FIRST time going over 2 months without perming my hair. And the only "negative" difference I've noticed is that it sweats out easily and takes longer to comb out after washing. Other than that, my scalp is stronger, my hair has more body and thickness, and it's growing a lot faster with no breakage. Below are some pictures of my natural hair.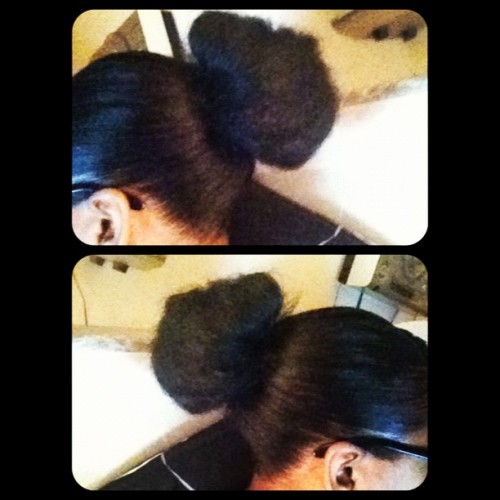 What about my edges? – "Edges" (otherwise known as your hairline) will grow back to natural thickness. They will not get weak or break off (as long as you do not perm it frequently). When I get my sew-ins, this is how my edges look:
---
If you're in the Atlanta area and need a weave sewn in, call my stylist Stanley (770) 572-6554 and he will take care of you for only $150! Tell him Chanel referred you to get your discounted services!