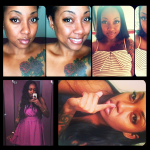 I've had some reality checks the past couple of months (good and bad), and also been taken aback by what's been going on with the media, law & just humanity as a whole. In the meantime, I did not allow this wacky world deter me from my desires and goals. I am still designing websites & have grown more passion for my craft. If you need an amazing site designed by someone that's reliable, personable, result driven, and will go above and beyond to satisfy your needs, all for less than $800, contact me.
I don't have the ability to draft a complete blog due to my thoughts being all over the place, so I will just list them.
1. As you progress, becoming happier, and exude more positivity, the more people will try to tear you down. Do not be surprised if it mostly comes from your inner circle and/or your loved ones. Ignore it and move on with your life. Never stoop to their level. People that act this way towards you are usually jealous of your new peace of mind. Misery loves company! Therefore: I align myself with people who support my growth. If you meet someone whose soul is not aligned with yours, send them love and move along.
2. When a friend knows that you're going through a lot, and they don't even have the decency to at least text you to see if you're okay, that's not your friend. And the cliche "I'm going through a lot myself" line is just an excuse for their selfishness. Everyone is going through something. Some bigger than others. That doesn't make it okay for them be self-absorbed. There were times where I felt like and/or I was going through the most worse period of my life, but I was still able to reach out to a friend just to say "Hope you're doing well today".
3. Everything that you go through happen the way they should, at the right time, to the right people, and ended the right way.
4. "The best way to love someone is not to change them, but instead, help them reveal the greatest version of themselves." ― Steve Maraboli.
5. The tattoo on Trayvon Martin's chest read "Cora" — his grandmother's name. The NAACP's petition to the Department of Justice asking for federal charges, including civil rights charges, to be filed against George Zimmerman has reached 1.5 million signatures. This major milestone was reached in just three days. The petition was set up on Saturday evening shortly after the verdict finding George Zimmerman not guilty in the murder of Trayvon Martin was read. Interested parties can still sign the petition, which will remain active and open until the Department of Justice completes their case. Sign the petition by visiting: naacp.org/The-DOJ-Petition – Or text "JUSTICE" to 62227. May he rest in peace.
Read More