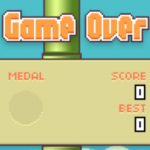 The end of Flappy Bird has come. The developer Dong Nguyen doesn't seem to like the attention. After Nguyen's pleads of "Please give me peace" and details about how "It ruins [his] simple life," the developer has promised that he will be removing the app today, Feb. 9, 2014, and he sure did.
I never played the game before because I knew it would be addictive (just like Candy Crush, which I never played before). I was addicted to Angry Birds for a long time. So long I even forgot to perm my edges once.
The Flappy Bird creator cannot deal with the publicity, but with this sudden announcement with no explanation, many assumptions are sure to surface. Although he has stated that the removal is not for legal purposes, we can't help but to think that there must be underlying reasons for this strange activity. What makes this even more shocking is the fact that the game was updated one day prior to this announcement. There's also the question of why Nguyen would rather pull the app than sell it or at least leave it in the App Store for the time being. Perhaps he's not interested in working on the game anymore, but the event of Flappy Bird's removal is sure to confuse and frustrate many iOS users.
I truly believe the reason he decided to end it "suddenly" is because of the also "sudden" fame. Nguyen was reported bringing in $50,000 a day from in-app advertising revenue. It would be understandable if say, Nintendo was suing him for ripping off their art, but he claims that isn't the case. He also says he's not interested in selling Flappy Bird, and he still makes other games, many of which are also quite popular on the Android and iOS app stores.
Is this really just a guy who can't cope with sudden fame and success, or is something else going on here? Is there really a level of internet vitriol that can make someone simply throw away $50,000 a day? I suppose with the amount of flack Nguyen has taken, it can wear on someone. Whenever someone posts a tweet, instagram or vine about Flappy Bird, 9 times out of 10 they're complaining about losing. Even though they're playing it everyday, they're also complaining everyday. Negative + negative = I don't want to deal with this anymore.
Best of luck to Dong Nguyen with his other apps! Read More