ketchup packets.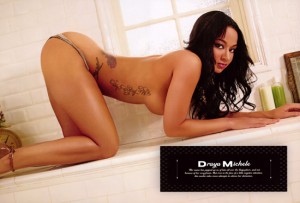 "If anyone is unfamiliar with Draya Michele,  she dated Chris Brown for a while and bragged to the whole world via her blogs and twitter about her extravagant life style. She tweeted photos of herself at basketball games & clubs across the country as well as bragging about her first class trips, shoe/purse game & Bentleys. Well, it was revealed that she was arrested for endangering her child."
Today, she is one of the women that's on the new VH1 show "Basketball Wives LA". She's never been married. Never been engaged. Never been in a serious relationship with an NBA player. Doesn't have a child with one. But she's on this show as a "mistress". I don't understand Hollywood. There are so many hard working mothers out there, trying to make a honest living by becoming an actress, producer or even a fashion designer, but instead, they give the shine to a woman that was arrested just a few months ago, for child endangerment to be part of a reality television to further her irrelevant career as a groupie/whore/booty model.
Her 7 year old son was home alone night after night after night eating sugar & ketchup packets, while she shook her ass at the strip club to pay for her Forever 21 outfits. Many people on Twitter have called her out on being a neglectful mother, just for her to respond that the police are lying because they are "jealous" of her. Why would a regular policeman make up a story? And if so, wouldn't she have sued the police department and the local newspapers for slander?
I'm not about to make this some long drawn out post about how mothers that neglect their children are worthless pieces of shit. It's sad that the REAL independent, single mothers out here are not getting the full exposure and support that they rightfully deserve. I just wanted to place an FYI out there about how idiotic television producers are to support women like this, while the great ones are out here struggling for their own. 
A 7-year-old Wyomissing boy was coming home from school to an empty apartment and spending nights alone while his mother worked in Philadelphia, borough police said Friday. The boy told police that he would get off the bus most days and wait for someone to leave or enter the gated parking garage under the apartment complex in the 100 block of North Park Road so he could get into the building, police said. His mother, Andraya M. Howard, 25, would leave the apartment door unlocked and microwave dinners in the freezer for him, they said.

Police arrested Howard at the apartment Thursday night on a charge of endangering the welfare of a child. She remained free on $25,000 bail after arraignment before District Judge Ann L. Young in Reading Central Court.

According to court records: A policeman found the boy alone in a disheveled apartment Dec. 16 about 2 a.m. after the boy called 9-1-1 and told dispatchers he was home alone. He told Patrolman Kevin M. Quinter that he called his mother's cell phone about 20 times to find out where she was. He last spoke to her when he called her after getting off the bus. She said she was at a tanning salon and would be home soon.

The apartment looked like it had been ransacked, with women's undergarments scattered throughout the living room. A small dog was in a cage, and dog feces and dog urine were in several places in the apartment. While Quinter talked to the boy, the youth got a TV dinner from the freezer, stood on the counter and put it into the microwave.

Police called the boy's grandmother, who took him home. She said she had been watching her grandson while Howard went to her job overnight in Philadelphia, but she had not been baby-sitting the boy for a few months. Howard, who said she worked as a model, returned home about 8:45 a.m. and police told her that her son was in the care of the county Children and Youth Services while they investigated.

Police did not know the status of the child Friday. They charged Howard on Dec. 30, but did not immediately arrest her because she agreed to surrender to sheriff's deputies. When she didn't, police went to the apartment and arrested her.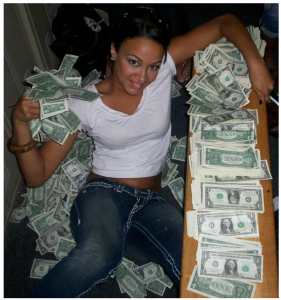 All those ones but you couldn't afford a babysitter?